Every company in the screen printing industry has to make a choice of water-based ink vs plastisol ink. But whether to use water-based ink or plastisol ink for screen printing always depends on the purpose and fabric types.
In this post, We'll go through the key distinctions between these two basic screen printing ink kinds in terms of feel, printability, and overall constituents. At the end of this article, you will have an understanding of water-based screen printing vs plastisol and which one is best for screen printing on t-shirts. 
But before we move on to plastisol ink vs water-based ink, let's start with the basics.
What is water-based screen printing ink?
Water based screen printing ink is made up of water and pigment. One of the most notable characteristics of this type of ink is that it does not contain any plastic in its base, making it a more environmentally friendly option. 
Rather than sitting on top of the fabric, the ink seeps into the fabric and colors it. After a few washes, this gives a more uniform feel as well as a more vintage look.
Pros to Screen printing Water based Ink is that it is made up of natural substances and prints are breathable to the skin. It observes sweat. 
Cons of water based ink screen printing  is that it can be worked on limited types of fabrics and have low shelf life compared to the plastisol ink.
What is Plastisol screen printing ink?
Plastisol ink is the most common ink used in garment screen printing. PVC particles suspended in a liquid plasticizer make up the material. It is extremely robust, versatile, and simple to utilize in the screen printing process.
Pros of Plastisol Ink is that it has good coverage and there is little to no waste of the ink during screen printing. It is suitable and easy to work on all types of fabrics. There are additives that are also available to offset the thick feel of the plastisol. Plastisol screen printing ink is cheap, durable and prints are vibrant with more color accuracy. 
Cons of plastisol ink screen printing however lies on the feel of the plastisol print. Since it is made up of plastic, it sits on the top of the fabric. The print on a plastisol ink shirt has a thicker feel. This obstructs the breathability of the skin through fabric. Along with that, it's not considered environmentally friendly and sustainable due to it being plastic derived. 
Water based Ink Vs Plastisol Ink For Screen Printing
There are many factors to compare and consider when it comes to screen printing plastisol ink vs water based printing ink. 
Feels of the print: 
Water based screen printing ink has a softer feel to it as it has water soluble color pigments and it absorbs into the cloth material. Upon curing, water based solves of water soluble ink evaporates leaving only pigmented binding compounds. This makes fabric feel like just dyed. 
Plastisol is plastic based and is made up of PVC particles. This ink is basically plastic in liquid form. When it is heated or cured it solidifies. Thus plastisol print is layered on the top of the fabric. It has a thicker and harder feel to the print.
Color Vibrancy:
Plastisol ink has better shine and detail to the color than that of waterbase ink. It can look good and bright even on the darker fabrics. Plastisol inks are solid and don't fade after being cured. This blocks dye to create opacity to undebased, able to print bright, bold and fluorescent colors. 
Water based inks are vibrant but comparatively lesser than that of plastisol screen printing inks. 
Not only are the water based inks more transparent than Plastisol, but getting a brilliant white under base is more difficult, and employing discharge will give you an off-white under base at best, reducing the possibility for an overall colorful print.
Color Accuracy: 
Plastisol ink has a significantly greater viscosity, resulting in a more opaque print. Increasing coverage, especially on dark clothes. Plastisol ink provides a higher level of gloss and color detail than water based ink. Even on darker textiles, it may appear nice and vibrant. Plastisol inks are permanent and do not fade after curing. This prevents dye from causing opacity in the under base, allowing for the printing of brilliant, bold, and fluorescent colors thus having better color accuracy. 
Because of the viscosity (thickness) of the ink, water-based ink does not have a high opacity (coverage). It is genuinely liquid in form with minimal viscosity, resulting in very pale colors when printed directly on dark clothes.
Breathability:
Water based inks absorb moisture from the fabric and hence gives the water based ink prints more breathability than plastisol ink prints. 
Plastisol being thick and solid print, it creates a hard surface on the fabric that doesn't let the moisture and air pass through it. 
Versatility:
Plastisol is a multifunctional material. It's simple to combine to make almost any color you can think of. Plastisol ink allows you to pick the precise color you desire. You may even make suede, glow-in-the-dark, glitter, shimmer, or metallic effects.
100% cotton fabrics are ideally suited for water-based ink. Blended textiles provide certain challenges since the synthetic elements of the cloth do not absorb the ink as well as cotton does. It cant be used with polyester fabrics. 
Durability:
Both screen printing plastisol ink and water based ink are durable in nature.
Since the ink is absorbed into the fabric, water based ink prints last as long as the garment does.
Likewise, the polymer bond of the plastisol ink is permanent, and the plastisol print on t-shirt too shall last as long as the t-shirt does.  
Read here on how to wash Screen Printed T-shirts for durability.
Ecofriendly:
Waterbase ink is more eco friendly being water based than plastisol. Though water based inks contain plastics like acrylics and other binding elements, they are PVC free.
Plastisol on the other hand is made up of PVC and is not considered healthy to the planet. 
To actually know if  water-based ink is really eco-friendly, you have to fact check it here yourself.
Cost:
Plastisol inks are considered rather cheaper than water based screen printing inks. Working with plastisol ink is easy and they last for a long time. 
Water soluble inks however evaporates and clogs the printers. They need to be cured and pose difficulty when working with fabrics that are not cotton. 
Workability :
Plastisol screen printing inks being versatile, they are easy to work with. They are stable and they don't need to be cured. Working with plastisol inks is simple and requires a little time and processes. 
Water based inks are hard to work with due to their viscosity and also require low cure additives, dye blocks and acrylic inks which are highly solid.
A quick look chart for Water-based ink vs Plastisol Ink for Screen Printing
| | | |
| --- | --- | --- |
| Properties | Plastisol | Water-based ink |
| Vibrancy & brightness | ✅ | |
| Breathable | | ✅ |
| Design detail | ✅ | |
| Cost-effective | ✅ | |
| Durable | ✅ | ✅ |
| Versatile | ✅ | |
| Color accuracy  | ✅ | |
| Softness | | ✅ |
| Lightness | | ✅ |
| Discharge ink | ✅ | |
| Eco-friendly | | ✅ |
| Ease of use | ✅ | ✅ |
| washability | ✅ | ✅ |
| Heat setting | ✅ | |
What to choose between Water-based ink vs Plastisol Ink for Screen printing?  
At DFW Impression, we normally work with plastisol ink as they are easy, versatile and color accurate. In some rare circumstances we do use water-based ink for cotton fabrics. 
As a general rule, consider whether there is one detail that you value above all others. You won't want to use plastisol if you're seeking an environmentally friendly screen printing alternative. Need a really vivid print on a dark mixed (not 100 percent cotton) fabric? Plastisol is the only choice, or a combination of the two methods. Are you looking for a way to produce super-soft personalized t-shirts? Then water-based ink comes out on top.
In almost any instance, great results may be achieved using both ink kinds and the proper strategy. But, if you have to make only one choice on the ink type then plastisol ink wins the Plastisol Vs Water-Based Ink for screen printing debate. 
T-shirt marketing has been hailed as a winning tactic by marketers and entrepreneurs alike. When it comes to casual clothing, t-shirts have been passed down from generation to generation as one of the most comfortable. It has become a vital part of marketing promotion and brand awareness today, and it's not going anywhere anytime soon. Advertising on these clothing is intended to capitalize on the popularity of these outfits. This means that people wearing these t-shirts act as walking talking billboards for brands.
Tshirt Marketing is a fantastic business promoting avatar.
Your company name and logo can be printed on t-shirts to promote your brand on a budget. Consider creating distinct t-shirts for each product that you sell to attract prospects to find out more about your products and services. It's important to encourage individuals to wear their t-shirts a lot so that your company's name is seen by the most number of people feasible.
And Voila, there's your excellent advertisement!
But then, the question comes down to How?  In this post, we will answer your question.
What is T-shirt Marketing and How to use T-shirts for Business Marketing?
There's a whole industry dedicated to marketing products and services using T-shirts as advertisements. For T-shirt Marketing, T-shirts are printed with an image, phrase, or slogan as part of the advertising campaign to promote the product. Full-sleeve t-shirts and other tees are often given as gifts and worn casually in marketplaces and other crowded areas.
An individual wearing an advertisement on his or her shirt becomes an integral element of a company promotion effort. Marketers can use t-shirt marketing to transform people into walking billboards.
T-shirt Marketing Strategy
To this day, no marketer can deny that t-shirts have the ability to reach out to a large audience. Advertising on T-shirts is seen by thousands of individuals every day. It also converts well. It is possible to measure the marketing potential of these casual wear by looking at successful marketing campaigns for t-shirts over the course of time in history.
People received free T-shirts as part of all of these programs. They wore it a lot, which resulted in instant brand recognition amongst the populace.
It's no secret that Coca-Cola's t-shirt giveaway machine was a huge marketing success in 2015. Also, Mailchimp's 1,000 t-shirt giveaway was hugely popular as were Breast cancer fundraisers in Spain and Single Grain's t-shirt giveaway, as well as O2's rugby shirt campaign.
What role does T-shirt Marketing play in your business strategy?
1. T-shirt Marketing is Budget-Friendly Marketing
One of the most cost-effective ways to promote a business is through t-shirt marketing. Other marketing strategies, such as television commercials, billboards, and newspaper and magazine adverts, are extremely expensive for small businesses. The costs of developing, manufacturing (including printing), and distributing the t-shirt, on the other hand, are minimal. Anyone, even a first-time entrepreneur, may easily modify the costs of creating a T-shirt.
Here are some Design Tips for the Company T-shirts to easily begin with Tshirt Marketing.
2. Sustainable Promotion with Tshirt Marketing
In addition to the removal of billboards and the recycling of newspapers, radio and television ads will only be broadcast for a short period of time. Your advertising costs will rise as a result. The time it takes to promote a customised T-shirt is negligible compared to this.
T-shirts are a sort of clothes that people enjoy wearing for months at a time since they are comfortable. As a result, they'll be displaying your brand's logo, image, and message on their chests for a long time to come. When promoting your business, you don't have to create a new t-shirt.
Branded T-shirts should be used for campaigns that will last for months. We believe this is due to the fact that individuals are more likely to buy custom sweats/hoodies/t-shirts or receive them as gifts.
3. Brand Recognition
Because of their visual attractiveness, t-shirts aid in brand recognition. Visuals are processed by the human brain 60,000 times faster than text, according to studies. Aside from that, written content with images gets 94 percent more views overall.
This means that a properly created logo and a memorable tagline on your t-shirt will be considerably more effective at grabbing the attention of your target audience. As a result, the brand's recognition will increase significantly as a result of this.
4. Brand Loyalty
Customers' loyalty is critical to a company's long-term success. Marketing with t-shirts is a terrific way to build consumer loyalty. When they have worn the T-shirts with your company name and logo on them, they subconsciously feel closer to your brand. This ensures you have their loyalty next time they need your products or services. People do like receiving gifts from the companies they are loyal to.
Since now you know how can t-shirts help your business with marketing, you may want to know how to use them.
How to do Tshirt Marketing for business?
Some of the great proven ways to do Tshirt Marketing are listed below:
1. Instruct your staff to wear a T-shirt.
If your own employees wouldn't wear it, it makes no sense for the customers to want to wear it. How good the merch looks on staff influences the sense of likeness of the customers.
2. Hold frequent giveaways.
Making customers take part in giveaways through some contests or conditions like they like and follow your social media profile or offering them discounts and company T-shirts if they bring friends or family with them something like that always works.
3. Appear in Company Tshirts Everywhere
Idea is to be yourself the billboard you want for your company. Show up on tradeshows, sales events, booths,
marketing campaigns, and other places where you and your staff may find the crowd available for the marketing.
4. Sponsor or organize the event
Sponsoring or organizing events with other companies that you are not directly competing with is a wonderful idea of marketing. While events call for huge participation from the people, promoting your company with T-shirts gives you the best possible advertisement, brand recognition, and in turn the sales you are trying to make.
All being said, T-shirts make a great advertising medium and it's established itself with a proven rate of conversion. Once you start letting T-shirts advertise for you, your stats will say how much marketing you have successfully influenced with simple and low-budget marketing.
Do you want to know "how to find the best t-shirt printing company"? Tell us what do you think about it.
Not only T-shirts, but you can also use items like stickers, phone cases, bags, caps, etc to promote your company. Some of the items can be printed with us here.
DTF printing and Step by Step Process
The term "digital printing on textiles" refers to a variety of techniques. This article will concentrate on the DTF printing process (Direct to Film Printing).
You can find our blog on the sublimation process and how to get started with it here. 
If you are confused about which to choose between White Toner Printer, DTG, or DTF, your answer to the question is in this post.
Now moving forward to the Direct-to-Film Printing process-
What exactly is DTF Printing, and how does it function?
The DTF technique is as straightforward as its name implies: print on a film and transfer directly to fabric. The flexibility to choose almost any fabric is the most essential aspect that makes this approach appealing to a larger audience. DTF printing will undoubtedly work its magic on polyester, cotton, silk, or synthetic fibers such as rayon or terry cot.
What things are needed to get started with DTF Printing?
1. DTF Printer
Alternatively known as DTF Modified Printers, direct-to-film printers print on film. Simple six-color ink-tank printers like the Epson L800, L805, and so on are the mainstays of this group of printers. There are six distinct colors in this printer series. White DTF inks may be placed in the printer's LC and LM tanks, making operation easier. Similarly, the rollers used to slide the page have been removed to prevent the formation of "linings" on the white layer of the DTF film.
2. PET Films
The DTF printing method uses PET films, which are made from polyethylene terephthalate. These films are not the same as those used in screen printing, which is a separate process. With a thickness of 0.75mm, they offer superior transmission capabilities, as well. As DTF Transfer Films are commonly known in the market, this type of film is typically referred to as such. In addition, to cut sheets, DTF films are also available in rolls (used with a commercial setup). According to the sort of peeling that occurs after the transfer, PET films can be classified in a second way. As a result of the temperature, the films are classified as either hot peel or cold peel films
3. DTF Printing Software
As part of the process, the software is crucial. A large part of the Software's effect is on print qualities, ink color performance, and final print quality on the cloth following transfer. When printing DTF, you'll want to use an image-processing application capable of handling both CMYK and white colors. All of the elements that contribute to an optimal print output are controlled by DTF Printing's software.
4. Adhesive Powder
In addition to being a binding agent, the DTF printing powder is white and functions as an adhesive substance. There are several micron-sized grades of DTF hot melt powder. On the basis of requirements, a grade should be determined.
5. DTF Printing Ink
Cyan, Magenta, Yellow, Black, and White pigment inks are available for DTF Printers. A unique component known as White Ink is used to lay down a white foundation on the film on which the colorful pattern will be produced.
6. Automatic Powder Shaker
It is used in commercial DTF installations to apply the powder evenly and to remove the residual powder, among other things.
7. Heat Press Machine or curing Oven
A curing oven is a tiny industrial oven used to melt the hot melt powder that has been placed in the transfer film.  Alternatively, you can use a heat press machine that is engineered to imprint a design or graphic on a substrate, such as a t-shirt, with the application of heat and pressure for a given period of time. This should be used with minimal to no contact.
Step by Step DTF Printing Process
Now that all the items are arranged, we move on to the process. Step by Step DTF printing process entails the following steps.
Step 1: Create a print on the film
Fill the printer trays with PET film.
Press the Print button.
The inkjet printer will print "direct to film," which will transfer the picture to your PET film.
When removing the print from the tray, take care not to smear it!
Step 2: Spread the powder evenly on the surface.
In this technique, a hot-melt powder is applied to a film that has an image printed on it.
During the printing process, the powder must be added to the wet print.
Assure that the powder is spread evenly.
As a rule, you'd keep a tray next to the printer, sprinkle ink on the web print, and then seesaw back and forth until the wet ink is covered with ink. Then, shake off the excess very cautiously.
Automated shakers are also available for bespoke t-shirt businesses that are extremely busy.
 Step 3- Melt the Powder
After melting the powder in place, what comes next is the melting of the powder in the place of spread.
Direct-to-film DTF transfers are most often baked for around 2 minutes in a conventional oven.
You may also use your heat press if you're already in the custom t-shirt business and performing DTG, vinyl, or white toner printer transfers. Simply hover over the area without exerting any pressure. In other words, it is possible that the top of the press is not in contact with the transfer at all.
On purpose, DTF transfers are not cured at certain times or temperatures. To be safe, always consult the manufacturer.
Step 4- Pressing the t-shirt before use
A t-shirt isn't required, of course. You should be able to apply your DTF transfer to any application without any issues. In the print, any creases will be visible!
In addition, and perhaps more significantly, the material will be thoroughly dried as a result of the process. Humidity in the air may cause a cloth to absorb a surprising amount of moisture, which can impact print quality.
Step 5- DTF Printing Transfer Application
A direct-to-film conversion does not need to be used immediately. They store well, much as most other types of transfers. It is for this reason why so many small enterprises focus solely on selling their own transfers!
Heated PET film containing an image and powder are applied to pre-pressed material. Following the manufacturer's directions, you'll heat press the transfer onto the shirt just like you would any other.
A screen-printed garment isn't thrown into a tunnel dryer, and this procedure should take less than 30 minutes.
Step 6- Peel-Off Transfer
DTF employs a cold peel method of peeling.
It's best to wait until the cloth and transfer are totally cooled off before pressing them onto a shirt.
Press all the shirts one by one and peel them after they have cooled.
While cooling, the hot melt works as a binder, binding the colored pigments in ink to cloth strands.
You may then remove it by peeling it off when it has cooled.
Step 7- After Finish Press
DTF printer transfers, like white toner printer transfers, require a final press to ensure the printer's durability.
In most cases, this final step takes no more than 10 to 15 more seconds.
A direct-to-film (DTF) print does not have the same restrictions as sublimation or direct-to-garment (DTG) printing.
It's a really impressive device for transferring files. Any cloth may be treated with it!
Cost of DTF Printer
Inkjet printers such as the Epson L1800 or R2400 may be readily converted into DTF printers. You will also need a heat press.
An Epson SureColor SC-F2100 DTG printer may cost upwards of USD 18,130, but a brand new L1800 with a heat press can be acquired for less than USD 1500.
We hope this article brings you all the information you may need for your DTF printing project. If you want custom t-shirts, canvas, mugs, phone cases etc, we are available at Himalayan Tees as well. Check us out.
The Best T-shirt fabrics for printing
The modest tee is the standout front-runner among all of these growing apparel products, with the global market for customized T-shirts printing. However, to achieve the greatest print finish and long-lasting quality, you must consider the cloth you'll be printing on and the question that lingers is what are the best t-shirt fabrics for printing?
In this time and age, the fashion and apparel market is booming. To set oneself apart, the most crucial factor is the design. The design of the clothes we wear makes us stand apart. When it comes to a t-shirt, print on demand offers a variety of options. It's difficult to decide which things to buy. Keeping that very thing in mind, this post is prepared for you as the guide to decide which is the best t-shirt material option to print on.
Before you get right into the topic, let us walk you briefly through the introduction to the types of fabric.
Polyester
Polyester (polyethylene terephthalate) is made by combining petroleum, air, and water in a chemical reaction. Purified terephthalic acid (PTA) and monotheluene glycol are used to make this synthetic fiber (MEG).
Polyester is thermoplastic, meaning it can be melted and reformed. Polyester is made by melting polyester pellets and pushing them through small pores by chemists (spinnerets). On the spinnerets' exit side, the continuous filaments of polyester fibers harden. The size and shape of the hole determine the fibers' shape and diameter. Because the fibers are comprised of solid polymer, there are no empty spaces within.
To manufacture staple fibers for use in textiles and Nonwovens, these continuous filaments, known as "tow," can be cut to any length (no length distribution, all fibers are produced to be perfectly homogeneous), or they can be left as a continuous monofilament, akin to fishing line.
It's long-lasting, quick-drying, and extremely robust while remaining lightweight. In fast fashion, it has become a popular fabric. It is currently considered to be the best tshirt fabric for printing.
Sublimation printing, as opposed to direct to garment (DTG) printing, is excellent for polyester t-shirts. For most t-shirts, we prefer DTG since it provides the most exact print for your design. However, if you want an overall print, sublimation printing is the way to go.
If you're looking for a t-shirt with a custom printed design, we have a wide range of selections available at DFW Impressions. Lets now read on to next fabric for printing.
 Cotton
Cotton is made from soft vegetable fibers spun into yarn and stitched into the fabric for t-shirt components. The more cotton used in DTG printing, the more vivid the print will be. Natural fiber fabrics, like this one, are great for printing and will last longer in the wash than synthetics.
Cotton, on the other hand, is not uniform around the world. Regular cotton is the industry standard, but it can also be ring-spun and combed for a softer, more durable product.
Types of Cotton
Combed cotton is made by removing short strands and then straightening the fibers with tiny brushes. The cloth becomes softer, smoother, and stronger as a result. It makes for superior printing material.
Organic cotton is a popular choice since it is softer, more comfortable, and more environmentally friendly. It costs more than ordinary cotton, as it is cultivated without the use of numerous fertilizers or pesticides.
Pima cotton is recognized for being the best quality cotton money can buy, with exceptionally long strands that assure the t-shirt fabric's softness. Pima cotton is a long-lasting fabric that doesn't pill, fade, or stretch. Supima cotton is similar to Pima cotton, except it is cultivated only in the United States.
Slub cotton is a kind of cotton that has little lumps in it. This is created before the cotton is weaved by twisting the cotton into random twists. Slub cotton is a one-of-a-kind fabric that is light and airy and does not adhere to the body. It's also naturally textured, so there's no need to iron it.
Ring-spun Cotton is a higher-quality fabric that is excellent for producing high-end print-on-demand t-shirts. When cotton is ringspun, the fibers are twisted more tightly and thinned during the spinning process. As a result, the yarn is more durable and comfortable to wear. It also creates a smooth surface that enhances print quality.
Airlume Cotton: You might see the term 'airlume' cotton in the Bella+Canvas descriptions and ask what it means. According to the manufacturer, it's "the highest grade combed and ring-spun cotton." It's clean cotton that removes 2.5x more impurities than regular ringspun cotton thanks to an intense combing process.
Triblends, best fabrics for printing on t-shirts
A triblend fabric is, as the name implies, a combination of three different fabric kinds. Triblends are generally made up of 50% polyester, 25% cotton, and 25% rayon. They're incredibly soft, a little more stretchy, and frequently have a vintage appearance. Although cotton is preferred for direct-to-garment t-shirt printing, a good-quality triblend t-shirt can also be used, particularly when a more cost-effective printing foundation is desired.
Tri-blends, in general, lend themselves well to faded, vintage-style prints.
When using water-based or discharge ink, the ink literally replaces the color of the cotton in the cloth with the color of the ink. However, because the ink's discharge agent only takes the color from the cotton, you'll be able to see some natural heathering in tri-blend shirts. Triblends are ultimately considered the best t-shirt fabrics for printing.
100% supersoft Cotton
supersoft polyester+ cotton blend
dark triblend
light triblend
How to print effectively on different fabrics?
Our top recommendations of Best T-shirt Fabrics for printing
T-shirt blank
Fabric composition
Fabric weight
Construction
Price 

*

Bella+Canvas 3413
50% poly, 25% airlume combed and ringspun cotton, 25% rayon
40 single 3.8oz
Side-seamed
 Starting From $10.00

(approx £7.80)

Anvil 980
100% ringspun cotton
30 single, 4.5oz
Tubular
 Starting From $10.05

(approx £7.84)

Gildan 64000
100% ringspun cotton
30 single, 4.5oz
Tubular
Starting From $10.90

(approx £8.50)

Next Level 6410 Premium Fitted Sueded

Fabric laundered 60/40 combed cotton/poly sueded

4.87oz
Side-seamed
Starting From $8.90

(approx £6.94)

Bella+Canvas 3001
100% airlume combed and ringspun cotton
32 singles, 4.20z
Side-seamed
Starting From $8.07

(approx £6.29)
Bella+ Canvas 3413
Bella+Canvas 3413 is a triblend of 50% poly, 25% rayon, and 25% airlume-combed and ring-spun cotton. This cloth is really comfy and soft. It has a single count of 40, which is rather high. This results in a smooth surface, ideal for direct-to-garment printing.
The fit of this shirt is current and modern. It has a fantastic unisex loose fit and would make a terrific fashion tee. It's inexpensive without sacrificing quality or comfort.
Anvil 980
This shirt is neatly sewn and looks good on an athletic body type. It is made of soft ringspun cotton that is firmly woven together and long-lasting.
This shirt has a nice balance of loose and form-fitting, with a little thicker weave than the American Apparel shirt. Because of its soft-touch texture, Anvil is ideal for screen printing inks.
Gildan 64000
The Gildan 64000 is a silky and lightweight t-shirt at an inexpensive price. It's a little longer in length and has a looser fit. For companies looking to maximize their profit margins, the Gildan provides a superb low-cost t-shirt.
Next Level 6410 Premium 
The Next Level Fitted Sueded is a Fabric Washed 60/40 combed cotton/poly sueded jersey with a very soft touch and a sportier, cooler appearance than normal velvet.
Next Level is recognized for manufacturing high-quality t-shirts in cutting-edge styles for both men and women.
Bella+Canvas 3001
It's one of the most readily available blank canvas tees. It's the ultimate balance of affordability, comfort, quality, and fit. This modern shirt includes a crew neck and side-seam construction for additional durability. It has a very soft feel and a smooth surface, which makes it perfect for direct-to-garment printing. It's constructed of high-quality airlume-combed and ring-spun cotton.
Best T-shirt Fabrics for printing- by sublimation
Some of you may be aware of this, while others may be unaware, so let us put the record straight. SUBLIMATION AND COTTON DO NOT GO TOGETHER!
The availability of certain pre-treatments and transfer sheets for Sublimation on cotton is known to us, and we are aware of This. However, the problem with this is that in addition to the cost of clothes and equipment, these treatments often come with A hefty extra price tag.
So, while you are here, read on. You might as well find more about what t-shirts are best for the Sublimation Printing.
With this knowledge in hand, you can now choose the correct blend of polyester shirts for Sublimation projects that will yield the greatest results.
Quick tip
Despite the fact that sublimation allows for very vivid and strong graphics, achieving a faded or vintage effect may be difficult.
Use a shirt with a lower percentage of polyester in this situation. Since the greatest quantity of ink is absorbed and preserved, you cannot create authentically faded images on a shirt made of 100 percent polyester. Vibrant and strong designs are usually expected.
Here go our 2 cents into the best-suited t-shirts for sublimation printing.
A4 N3402
A43402, A4 sublimation performance Tee is the best and most popular t-shirt for Sublimation. Nike, Adidas, Under Armour, and Puma make it their top-selling sublimation t-shirt in the United States.
In addition to providing all of the typical benefits of a 100 percent poly shirt, the A4 Sublimation Performance Tee will also deliver increased breathability, softness, and perspiration protection, all at an unbelievable price.
Team 365 TT11
With the soft cotton feel of cotton, this shirt is made of 100 percent polyester.  It is an economic alternative to many other polyester T-shirts or blends. Additionally, the t-shirt is available in women's and youth-sized (TT11W, TT11Y), as well as long-sleeve (TT11L, TT11WL) sizes.
N3142
The N3142 from A4 is perfect for wearers who prefer that silky dry-fit feel on a t-shirt. It has moisture-wicking properties as well as odor and stain resistance so consider it a great t-shirt for a activewear. If you're looking for a soft cotton feel then this is not the way to go.
Next Level 6200
T-Shirts of this caliber are rare in the t-shirt market. For optimum softness and comfort, the fabric's 40 single count is unheard of in its fineness and delicacy. If you're searching for a high-polyester shirt that has a soft cotton feel, the 6200 will provide.
While its shirt is 65 percent polyester and 35 percent cotton, it has one the colors won't be as vibrant as on a sublimated shirt. You might want to use this for old or purposely faded graphics, for example.
With this article, we hope we have given you the tips and guidance on what to look for when it comes to custom printing t-shirt blanks. You will be happily making good prints with our guide for the best t-shirt fabrics for printing.
What you want to pay attention to are the fabric material, the fabric composition, and the singles count of the fabric. We've given you a quick overview of some of the top print solutions available today, but our product catalog has a lot more to offer.
Check out more custom-printed t-shirts here.
Sublimation has always been the most popular technique of transferring designs to garments and other materials using heat and ink. It has established itself as the game-changer in the world of apparel. Clothing businesses and customizing companies now have cutting-edge technology that enables them to decorate garments and hard materials. Sublimation printers have always stood as the first choice.
If you are new to this and are not sure if you understand sublimation Vs other printing methods, the best way to start is by following this post. We have covered sublimation and other transferring technologies in great detail.
Now, if you have made the decision and are ready to buy your sublimation printer, don't worry. You don't have to dive into the pool of companies and models of printers to find the best one worthy of your investment. SawGrass and Epson are already leading the market. The question isn't which company has the best sublimation printer in the market and what model.
  The best sublimation printers: SawGrass or Epson?
As of now, SawGrass has SG00 and SG1000 printers competing in the market. Epson's sure color f570, WF-7720, Ecotank 3670, EcoTank 2720 sublimation printers have been updated with the most up-to-date sublimation technology and print resolution.
This review will assist you in selecting the best printer for your needs, whether you're a beginner printing your first t-shirt or a business printing mug, glassware, or one of an infinite number of very good blank spaces for sublimation printing.
In this post, you can find:
Epson WF-7710 Vs WF-7720

Epson EcoTank ET-2720 Black and White

Epson Sure Color f570

SawGrass SG500 & SG1000
Before we move to model specifics of each model we have to briefly discuss which company out of two will be the best fit for you.
Epson Sublimation Printers Pros And Cons
PROS:
-Cheapest entry-level option
-Common inkjet printers, which are frequently on sale
-Once converted, it can function as a scanner and copy (though it will print with sublimation ink).
-EcoTank models do not require cartridges for conversion, only sublimation ink.
 CONS:
-Changing to sublimation printing voids the warranty, removing access to Epson customer service.
-The possibility of ink heads drying out if used less than once every 1-3 days.
SawGrass Sublimation Printers Pros and Cons
PROS:
-Specifically designed for sublimation
-Self-maintenance mode maintains the printer even in the most rarely used form
-2-year guarantee and 30 minutes of unlimited technological support 1-on-1 to get you to work
-Free Sawgrass CreativeStudio Design Access
CONS:
-Expensive Initial Cost
Take away:
Choose Epson if you're budget-conscious and are planning to use your sublimation printer every few days and are willing to DIY the conversion, voiding the warranty.
Choose a Sawgrass model if you have the budget and want the ability to print high-volume projects but don't want the hassle of maintaining the machine regularly.
Now heading on to printer models. If you have chosen the company, you can head straight to model comparisons and specifications of the company.
Epson WF-7710 Vs WF-7720
Both printers are excellent all-in-one choices. They have a nice touchscreen display and can AirPrint wirelessly, via an ethernet cable, via NFC, or from a memory card. The WF7710 has a single feed print tray, whereas the WF7720 has two feed trays. They both print at the same size, have the same output levels and can be used wirelessly.
Converting the printer to sublimation will void the warranty, and you will no longer be able to receive customer support from Epson.
Once sublimation ink has been installed in an inkjet printer, it cannot be switched back to standard inkjet ink. Because these Epson printers were not designed to use sublimation paper and ink, there will be some issues with them over time which is one of the downsides of using Epson Printers.
Specifications
Epson WF 7710

Get Performance Beyond Laser™

— the WorkForce WF-7710, powered by PrecisionCore 

Print-shop-quality color graphics and laser-sharp black text

— borderless prints and brilliant marketing materials up to 13″ x 19″ 

Economical

— uses up to 80 percent less power vs. color laser printers4 

Versatile paper handling

— 500-sheet capacity, dual trays, plus a rear feed for specialty paper; 125-sheet output tray 

Save time with auto 2-sided printing

— up to 11″ x 17″ 

Ultimate wireless printing and networking

— print from iPad®, iPhone®, Android™ tablets, and smartphones1; includes Wi-Fi Direct2, Ethernet and NFC3 

Easy setup and navigation

— 2.2″ LCD 

Fast printing

— 18 ISO ppm (black) and 10 ISO ppm (color)†; ideal for home office or small office productivity 

Extra-large, high-capacity ink cartridges available

— for high-volume printing

Epson WF 7720

Get Performance Beyond Laser™

— the WorkForce WF-7720, powered by PrecisionCore 

Print-shop quality

— borderless prints up to 13″ x 19″ 

Economical

— uses up to 80 percent less power vs. color laser printers4 

High-volume printing

— 500-sheet capacity, dual trays, plus a rear feed for specialty paper; 125-sheet output tray 

Auto 2-sided print, copy, scan, and fax

— plus 35-page Auto Document Feeder 

Easy navigation and control

— intuitive 4.3″ color touchscreen 

Ultimate wireless printing and networking

— print from iPad®, iPhone®, Android™ tablets, and smartphones1; includes Wi-Fi Direct2, Ethernet and NFC3 

Large scans

— easily scan up to 11″ x 17″ with 2-sided Auto Document Feeder 

Fast printing

— 18 ISO ppm (black) and 10 ISO ppm (color)†; ideal for home office or small office productivity 

Extra-large, high-capacity ink cartridges available

— for high-volume printing 

Hands-free voice-activated printing**

— ask Alexa to print a variety of creative projects and everyday documents, including your to-do and shopping lists
Epson WF 7710 Price: $ 149.99
Epson WF 7720 Price: $199.99
Our Pick: Epson WF 7720
2. Epson EcoTank ET-2720 Black and ET 2720 White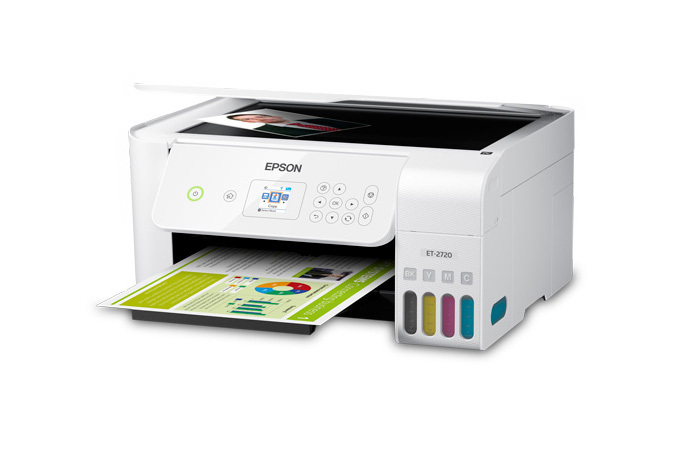 The disadvantages of the WorkForce printers mentioned above also apply to the EcoTank printers. Furthermore, it is best to convert a brand new EcoTank printer to sublimation rather than one that has previously been used for standard inkjet printing.
You should certainly look at the EcoTank series of printers if you've decided on an Epson. The difference is that ink cartridges are not used at all, but tanks are used which can be replenished directly in the printer. Many people converted the EcoTank series and the WorkForce printers successfully into sublimation and it isn't that intimidating.
Specification
Exclusive EcoFit bottle design — uniquely keyed for easy filling of each color
Compact, space-saving design — integrated front-facing ink tanks; premium white finish
Easy setup and navigation — 1.44″ color display
Borderless photo printing — easily print borderless 4″ x 6″ photos; also features a 100-sheet paper capacity
Hands-free voice-activated printing — ask Alexa to print a variety of creative projects and everyday documents, including your to-do and shopping lists
Price: $199
3. Epson Sure Color F570
This dye-sub printer is perfect for customizing sublimations, such as photo gifts, cups, tumblers, signs, clothes, and more. The Epson F570 is an efficient printer that provides high-performance prints with powerful PrecisionCore® technology. A fantastic 2.400×1.200 dpi image resolution at incredible speeds is one of the quickest sublimation printing systems in its class.
STANDARD WARRANTY: After purchasing the F570, you will receive a 90-day warranty until it is registered.
The warranty is converted to a one-year warranty upon registration.
EXTENDED WARRANTY: One-year Epson Preferred Plus Service and Support Plan.
Purchase an additional year of machine warranty (maximum of two years)
A one-year extended warranty costs $399.
WORKING ENVIRONMENT:
Temperature range: 50 to 95 degrees Fahrenheit (10 to 35 C)
Operating temperatures should be between 65 and 75 degrees Fahrenheit (18 to 24 C)
Temperature range: -4 to 104 F (-20 to 40 C)
Operating Humidity: 20% to 80% (no condensation)
Operating Recommendation Humidity: 45-60% (no condensation)
5–85 percent storage (no condensation)
EPSON F570 PRINTER BENEFITS & ADVANTAGES:
Astounding print quality, powered by PrecisionCore
Epson ink delivers bright, brilliant images
50 cut sheet auto-feed tray
24″ wide roll media support
Built-in cutter for added efficiency
Replace ink less often with high-capacity ink bottles
Auto-stop ink bottles for easy, mess-free filling
Optimized for printing on soft and rigid materials
World-class service & support
Compact, clean design easily fits on a desktop
Optional stand with paper catcher available
Dye-sub printing software included
4.3″ LCD color touchscreen simplifies print tasks
Wireless connectivity
Flat top printer surface
Price: $2,495.00
Only buy this if you are getting the printer for your business and it falls under your budget.
4.SawGrass SG500 & SG1000
The all-new Sawgrass SG500 and SG1000, which were released in early 2020, are welcome updates to the SG400 and SG800. Ricoh sublimation printers were another name for these machines.
The main distinction between Sawgrass and Epson printers is that Sawgrass printers were specifically designed for sublimation printing. Epson inkjet printers were not supported (hence why the warranty will be void upon conversion).
Sawgrass printers are designed to print sublimation ink on sublimation paper, and they have several features and specifications that enable them to do so more efficiently than a conversion. With a SawGrass, you can expect higher-quality, more professional results.
The printing resolution of the SG500 and SG1000 is extremely high at 4800x1200dpi and has incredible picture quality. They are designed to be used with the NEW SubliJet UHD inks. With this print setup, this ink produces the highest quality sublimation transfers. With a wide color spectrum, you'll have the most vibrant transfers for both hard and soft applications.
While the SG500 has a narrower print width (at 9 inches) than some Epson printers, its length can be greatly expanded with a bypass paper tray up to 51". The larger machine, the SG1000, has a print range of up to 13 x 19′′ with a bypass tray. Both options include a 250-sheet tray as an add-on.
Specifications
SawGrass SG500

Maximum Media Size: 8.5″ x 14″; Up to 8.5″ x 51″ with Optional Bypass Tray

Resolutions and Full-Page Print Speeds:

High Speed (600×600 dpi) – 15 seconds

High Quality (600×600 dpi) – 29 seconds

Advanced Photo (1200×600 dpi) – 48 seconds

Ultra Fine Photo (4800×1200 dpi ) – 6 minutes 40 seconds

Physical Dimensions: 15.75˝ x 17.25˝ x 8.5˝

Print Controller Specifications:

Memory: 128 MB RAM Standard/Maximum

Standard Interfaces: USB 1.1/2.0, Ethernet 10/100Base-TX

Network Protocols: TCP/IP

Supported Environments: Windows 8, 8.1, 10; Mac OS 10.13 or Later

System Requirements to Run Sawgrass Print Manager

Windows Operating System (a 64-bit operating system is required)

Recommended: Windows 10

Minimum Required: Windows 7

Apple OSX / macOS Operating System (a 64-bit operating system is required)

MacOS 10.13 and later

*Compatibility with the Apple M1 ARM processor requires Sawgrass Print Manager version 10.0.0 and Rosetta 2.*

Minimum RAM: 4GB

Recommended RAM: 8GB Minimum

Minimum CPU: Dual Core

Recommended CPU: Quad Core or greater

Minimum Free HDD Space: 10% Free

Minimum Screen Resolution: 1024*768 pixels at 100% zoom

Note: Only Windows Professional, Business, Enterprise, and Ultimate Editions have been tested and approved. Only compatible with Intel systems running Macintosh OS 10.13 or later, current with the absolute latest Apple software updates.

SawGrass SG1000

Maximum Media Size: 11˝ x 17˝; Up to 13˝ x 19˝ with Optional Bypass Tray

Resolutions and Full-Page Print Speeds:

High Speed (600×600 dpi) – 15 seconds

High Quality (600×600 dpi) – 29 seconds

Advanced Photo (1200×600 dpi) – 48 seconds

Ultra Fine Photo (4800×1200 dpi ) – 6 minutes 40 seconds

Physical Dimensions: 21˝ x 14.25˝ x 8.5˝

Print Controller Specifications:

Memory: 128 MB RAM Standard/Maximum

Standard Interfaces: USB 1.1/2.0, Ethernet 10/100Base-TX

Network Protocols: TCP/IP

Supported Environments: Windows 8, 8.1, 10; Mac OS 10.13 or Later

System Requirements to Run Virtuoso Print Manager

Windows Operating System (a 64-bit operating system is required)

Recommended: Windows 10

Minimum Required: Windows 7

Apple OSX / macOS Operating System (a 64-bit operating system is required)

MacOS 10.13 and later

*Compatibility with the Apple M1 ARM processor requires Sawgrass Print Manager version 10.0.0 and Rosetta 2.*

Minimum RAM: 4GB

Recommended RAM: 8GB Minimum

Minimum CPU: Dual Core

Recommended CPU: Quad Core or greater

Minimum Free HDD Space: 10% Free

Minimum Screen Resolution: 1024*768 pixels at 100% zoom


Note: Only Windows Professional, Business, Enterprise, and Ultimate Editions have been tested and approved. Only compatible with Intel systems running Macintosh OS 10.13 or later, current with the absolute latest Apple software updates.
SG500 Price: $549
SG1000 Price: $1499
Bottom line
Certainly, the SawGrass machines are better than the Epson sublimation printers, but it depends on your budget.  But if you are just starting with the heat transfer dye sublimation, an Epson isn't a wrong choice either.
We are hopeful that we have narrowed down the list of the best sublimation printers for you.
Happy Printing folks! Share with us your sublimation printing experiences in the comment section!
Hiring the best T-shirt printing company shouldn't have to be a difficult task but for some, it is. Not knowing how and where to look for one is daunting. Over the top, just a quick search on google will bring you millions of results which further adds to the stress.
Worry not! You just need to conduct some research to locate the most suitable company for you and your needs. For that, this post will give you some important things to research about which will save your time and effort.
But first, make the notes about the following few things:
How many T-shirts will you be printing?
When do you need it?
How much is your budget?
Now, the hunt begins for the best T-shirt printing company.
Company Profile
The very first thing you need to research is the company's profile. You will want to know how long this company has been operating and what kind of printing they specialize in. For example, you cant expect DTG printing in a place that specializes in sublimation printing. You will have to look for the services they offer and their experience with flexibility. The longer they have been in the business, easy it is to communicate with them about your needs.
You also have to pay attention to the size of the company depending on the quantity you want to print. Small businesses cant handle large orders. The number of years a firm has been in business is an essential consideration since it reflects its quality and experience. Most bespoke apparel businesses employ five to ten people, and every aspect of their operations differs, from their speed to their quality, service, procedures, and systems.
It would require a lot of effort to keep cutting-edge technology in every manufacturing process (DTG, screen printing, embroidery, vinyl) to ensure consistent output quality. This assures that delivery timeframes are never compromised and that quality is always of the highest caliber.
Location
Another thing that matters about printing companies is their address. For some custom garment buyers, having your favorite printer in town print your shirts may provide peace of mind. You can always expect them to deliver on time and it's no biggie if you want to drop by to pick it yourself. Choosing a reputable eCommerce company works well for other consumers, especially now that the internet itself is the biggest shopping mall.
At the end of the day, clients expect high-quality items delivered on time.  So, whether your printer is local or online, be cautious of who you trust and where you purchase from. If you prefer them in your locality or if they are a local company and have difficulty delivering to a distant location.
Designer
Find the company that has an in-house designer, you can work with if you are trying to get a custom printed t-shirts and you want someone to design you have in your mind.
Because it might be difficult to have specific logos or photographs printed on shirts at times, you should ask the proper questions about the company's print capabilities.
Some t-shirt businesses may need you to provide your design on a CD. While others may be satisfied with an e-mail attachment of your art but will require print-ready files and high-resolution images. Check to see whether you can meet their needs, and if not, locate someone else who can work with you more easily.
You should also ensure that your chosen printing business is capable of printing on both the front and back of your t-shirt, inserting numerous images, and changing the size, color, font, and alignment of the text you desire. Again, such details will reveal information regarding their general credentials.
Delivery Flexibility
If you need your personalized t-shirts right away, this might be a determining factor. Some t-shirt printing firms demand a certain number of days to complete your order. That is why you should always double-check their lead timings from the start.
If you're short on time, you could consider looking for a nearby company. If you live close to the printer, you may possibly save a day or two by arranging to pick up your own order.
Price
When everything is set, all the details are taken into account, you would want to know how much you are going to pay for the final product.
After all, you need to know how much you're going to spend on personalized t-shirts before they go into production. However, keep in mind that excellent quality in both garments and graphics is essential when it comes to t-shirt printing. You'll always be able to locate a company that will do it for less money, but will the goods survive and portrays the proper image for what you are paying or for what purpose you are getting the custom t-shirt for?
Customer Service
Anyone who has had to call a customer care number understands the value of customer service. Unfortunately, good customer service is harder to find nowadays, as businesses appear to have lost interest. Many customer service lines simply do not adhere to the "customer is always right" mentality any longer. While this is not always the case, it is beneficial to connect oneself with firms that still place the priority on customer service.
Online and on the phone, a good company will be helpful. During each process stage, from initial contact to delivery, they are eager and able to support consumers. They are also prepared to give design suggestions.
Search for a printer that provides individual customer care and who is willing to serve you directly or personally, regardless of the quantity of your purchase.
A reputable T-shirt manufacturer will want to know what you want to get printed, where you want to print, how many t-shirts to be, when and where to be produced and delivered.
Return or refund policy
It is critical that you agree on the company's return policy before placing an order. This will assist you in determining whether the firm is capable of performing your duties. Some firms will demand that any mistakes that happen are your responsibility.
You must be prepared to negotiate a refund with the business ahead of time if any risk arises on your clothing. If not, move ahead. While no one enjoys having to return an order, it is suspicious when an agency does not provide a return policy. If they won't accept it back, it's likely they realize it's not a good completed product.
Reviews
Knowing that the service you are about to take has been taken before you and has been liked by others and is recommended is a great relief. You want to know you are trusting the right company. Reviews are the best ways to make sure that you are making the right decision about where and how you are spending your money.
Verified customer reviews are the reputation of brands – in fact, if you want to know what certain brand values are, these are the best existing source of truth. Read online their customers' reviews and find out what previous buyers say about the quality, service, and products of the brand and then compare them to others in the industry.
Online user interface
When you get into the company's website you ought to be able to make easy orders, place your designs or inquire, it ought to be no rocket science. You should be able to easily look around, check other options, browse the reviews, and interact with service providers.
The online user flow of a custom clothing company is whether or not it first places the customer.
Select a company where most customized clothing orders are driven by upcoming events. All time-frames and excellent product quality should be met at all times. The value the brand places on user experience is a good indicator of whether they are exceeding your expectations or falls short of them.
That's it! That's about all things you need to worry about while choosing the best screen printing company.
You didn't think we would not pitch in ourselves as reliable, well experienced, and the best printing company in Dallas, did you?
Well, we are in the business for far too long enough to understand customer's needs, we provide impeccable customer service. We have amazingly talented in-house designers, and are experts in all kinds of apparel printing services.
You can check us now! Reach out and see for yourself!
In the world of apparel, T-shirts have a separate fanbase. Its graph of evolution in the clothing industry has only seen the elevation. Wide choices of customization make it a popular choice and all the age groups, all the size, and all the gender can have plenty of T-shirts in their wardrobes. Maybe their popularity makes them now a new tool of advertisement. They are now a huge part of merch.
In this article, we will talk about how to pick perfect T-shirts. If you are indecisive and have a hard time picking clothes for yourself, this post could be a step-by-step guide for you.
Fabric Type Matters
Choosing a T-shirt based on the fabric and fiber content is the most important factor to consider when purchasing one.
T-shirt fabric made of a mix of cotton and polyester fibers is easier to care for and more durable than cotton t-shirts. The t-shirt fabric is the softest and most pleasant to wear, thanks to a rayon-polyester-cotton combination.
If comfort is essential to you, the fabric your t-shirt is made of will determine it – and this will be determined by where you spend your time while wearing the t-shirt.
The right fabric according to the weather
In hot regions, 100% cotton fabric is a must-have fabric configuration for a T-shirt. If you're going to be in an air-conditioned environment, it doesn't matter if your t-shirt includes Polyester or other synthetic fibers mixed in with the cotton fibers, even if you live in a tropical region. Synthetic fibers may even appeal to you because of the extra benefits they give, like colorfastness, less shrinking after washing, stability, wrinkle resistance, and ease of care.
Synthetic Vs Polyester
T-shirt fabrics are typically 100 percent cotton or a blend of cotton and synthetic fibers, or 100 percent polyester or a mix of synthetic fiber, cotton, and rayon; jersey material is used for thinner, less expensive t-shirts, while sweatshirt jersey is used for thicker, more expensive t-shirts; interlock fabric is used for more drapey, more expensive t-shirts; cotton spandex is also used for stretchy t-shirts.
T-shirts made of 100 percent polyester fabric may not be very pleasant to wear daily, but they are ideal for sports since they are lightweight, flexible (perhaps with lycra), and drain perspiration away from the body to the surface, where it evaporates. Cotton, on the other hand, does not do this. Cotton absorbs sweat yet retains moisture for a longer period. T-shirts made of polyester dry rapidly. And you don't want anything to do with that moist feeling on your body as you're sweating.
Opacity of fabrics
The next thing you ought to care about the fabric material of the t-shirt is opacity. Do you want your shirt to be transparent? There are transparency ratings to fabrics. While choosing one, you should consider the transparency level of the cloth.
Printed Patterns and Designs
The graphics on the t-shirt might occasionally exert influence over the fabric type or any other consideration. All other factors might dim and fade away if you are smitten by the designs on the t-shirts. There is always our favorite one because of the artwork, clever statements, quotations, and other things on the fronts of the t-shirts.
Some of our Hindu, Buddhist and Nepali designs printed tees are our best selling and we can tell you, If you see it, if you like it, you get it!
Find your favorite design here!
Occasion
At home, on weekends, at the ballgame, and with the kids, this is what you wear. You probably wear a T-shirt more than any other piece of apparel in your life. You might think you can wear one anywhere, anytime but T-shirts too find their occasions.
The reason for wearing a certain t-shirt – albeit the occasion is a factor you shouldn't miss to consider. T-shirts aren't often worn on formal occasions. The sort of event matters more than where you wear one.
Price
Everyone knows you ought to buy what you can afford. But again, sometimes a $50 T-shirt can be worth it.
It's easy to make a T-shirt, as you can see. This is why they can be mass-produced for $5. Your T-shirt will fit better and last longer if the seams and hems are improved. We could debate taped seams and single needle vs. triple-needle sewing, but let's be honest. Price is frequently used as a proxy for building quality.
Seams that lie flat and move smoothly come from a company that focuses on high-quality essentials.
Find some of our T-shirts for less than $20 here and we promise your quality is worth the price.
Size and Fit
The only thing that helps you "look good" in a simple T-shirt is fit. And, yes, people with decent height and toned bodies have an advantage.
However, anybody can get in shape. Simply be honest with yourself about your requirements. The sleeves come first. These should terminate in the middle of the biceps. They're overly lengthy if they're longer than the thickest portion of the muscle. They should also softly embrace your arm, so wear something appropriate.
If you're petite, go for a shirt with a fitted body to avoid being swallowed. Give yourself additional room if you're not thin.
Some people value size and fit more than others. If you fall into the latter category, simply choose one that is the same size as the one you wear all year.
You may also go to the store and try them out one by one. However, when shopping online, this becomes an issue. The size will differ depending on the brand. The best thing to do is measure your shoulder width and chest size using a measuring tape, then double-check the measurement chart provided by each manufacturer.
Also, because cotton shrinks, a t-shirt with more cotton strands will require a larger size to accommodate for future shrinkage.
Measure around the largest portion of the chest under armpits while measuring the chest.
Unisex T-shirts are increasingly becoming popular because of their size uniformity.
Cuts and style
T-shirts with crew necks and short sleeves are the most popular. But the story doesn't end there. There are many various sorts of t-shirts and many different ways to wear them, including layering many t-shirts one over the other, depending on the current trend and personal fashion sense.
V neck Vs Crew Neck
People have strong feelings on whether they should wear a V-neck or a crew neck. However, your body is once again your guidance.
A crew neck will make your frame appear more square, therefore it's a perfect choice if you have a slim physique. You also don't want a V-neck to extend your already long neck if you're tall and willowy. A V-neck, on the other hand, is less boxy. It also makes your neck appear longer. If you're on the stockier side, this is a wonderful method to add interest and break up your frame.
Just make sure the V isn't too deep. The V's point should be lower than the dip in your collarbone, but higher than an imagined line joining the tops of your armpits.
Fabric quality (color fading, stretching, prints,  etc)
When you wash a new t-shirt, it begins to get loose and shorter. This is typically due to a flaw in the knit fabric structure, as the already overstretched fibers return to their un-stretched state when cleaned, making the garment shorter and wider.
Another issue is overstretching in certain locations such as the neckline, armscye, and so forth. A stay tape across the neckline of high-quality t-shirts will prevent overstretching.
You also don't want color-fading T-shirts. You may bring home a purple one and after one wash what you get is lilac.
Choice of color
You will sometimes find yourself in a dilemma when you have to choose the color of your t-shirt. Sometimes you might have the right size but not the color of your choice for the same design. There are times when buying online, the t-shirt of the color you bought may not be exactly as it seemed online when you get it delivered. Such considerations for the color of your T-shirts will have to be made.
Sewing framework
As mentioned earlier under the Price, the sewing of the T-shirt makes it susceptible to either extra or low cost.
This is a very important criterion – because an incorrectly designed T-shirt can distort your form – your body will hang in the wrong way. The neckband should not be twisted, but smooth. In the case of an uncomfortable t-shirt, the sleeve hems and body hem are twisted.
If the seams and the jacks are corrected, your T-shirt will fit better and last longer. Taped seams and one needle versus three-needle stitching should be considered.
The flat and smoothly moving seams originate from a firm that specializes in high-quality products.
Maintenance and care of T-shirts
It is conceivable that the cloth may rip, fall away and even shrink if certain materials are not taken care of properly. Often, colors are run on other clothing in the washing machine without adequate care labeling, or some of the materials should not be put into standard washing machines; instead, they should be cleaned with dry weather by professionals.
The printing needs genuine attention which may cost you the most valuable commodity ever – time – is another bad aspect in the upkeep of your t-shirts. They should be cleaned by hand to avoid fading color and ironed from the back, in particular on vinyl prints. This is shown on the care label.
Hence, before you head down to make the purchase take a moment to look at the care label.
Are you ready? If so, purchase it.
Just got yourself a custom screen printed T-shirt? Congratulations!
Don't know how to wash and dry it? No worries! We have got you covered.
Screen-printed t-shirts need extra care and caution when it comes to taking care of them. Their washability and durability should be taken into considerations once we get ourselves screen-printed T-shirts. The only way to make them last is doing washing and drying in the right way.
This post is your T-shirt laundry guide and we have frequently asked questions answered.
1. Can I put my T-shirt I just brought from print house to wash?
As soon as you bring your custom printed t-shirt home, you might want to get it dried, clean, and ready to wear. But, have patience. It's best to let your shirt stay put for at least a day so the ink is cured and dry. You want your design to completely be cured into the fabric.
2. Do I have to follow care label instructions?
Care labels are rather murky when it comes to printed T-shirts, some of them are considerate about the printing but some really relate to the original plain shirt only. When a simple shirt becomes a customized print, a major transformation takes place and you have to approach it as a whole new item. The original labels do not supervise our printing procedure technically speaking. Screen-printed products might be damaged by things like heat, dry washing, or toughening agents.
Thus, it's always prudent to ask your printer about the correct washing methods for your printed t-shirts.
3. How do I wash my screen-printed T-shirt?
There is much more to wash a cloth than to toss it into the machine, especially when you are doing your screen-printed tees. Before you get to the actual washing, remember to separate all your other clothes dark from light, pants from t-shirts, you do want color transfers and print peeling.
Here are our five tips:
a. You don't need strong detergent and bleach to wash your t-shirt.
Some chemicals are hard on clothing and might cause fading of the design on your clothing. Avoid bleach and harsh chemicals when washing to ensure that the design lasts as long as possible. If you need to remove spots and stains, use light stain removers and gentle detergent solutions.
b. Wash in cold water.
Screen printed shirts, unlike other clothes, require just mild washing. Use cold water to avoid fabric damage and to thoroughly clean your T-shirts.
c. Wash similar colored clothes together with Screen printed t-shirts.
To avoid color transfers and print peeling wash only similar colored clothes together. If your t-shirts and bright colored, you need to pay extra attention to prevent them from being stained during the wash with other clothes. Sometimes its best to wash them separately.
d. You don't need to wash your shirts after every single use!
Washing and drying your screen-printed shirts accelerates the aging process and makes them more susceptible to damage. The ideal method to prolong their life is to avoid cleaning them after each usage. If you have just worn them for a short time and want to keep them clean, consider hanging them or putting them back in your closet.
e. Wash your screen-printed t-shirts inside out.
This is a no-brainer, but it is occasionally overlooked. Turning a screen-printed t-shirt inside out avoids fading and pilling, ensuring that your garment remains as bright and crisp as the day you purchased it.
4. How to or How not to dry screen printed T-shirts?
a. Don't put your shirts in a hot dryer.
Exposing your screen-printed shirts to hot temperatures is a bad idea. Just like washing sensitive garments in hot water, setting your dryer to the highest level can damage the fabric. The heat created by the dryer and hot water washing are the two most common causes of textile shrinking, especially when washing cotton.
b. Do let them dry naturally.
A nice old-fashioned washing line, remember those? is the finest way to dry your clothing. In this manner, you avoid unexpected shrinking, which might ruin your print. If you choose the natural route and hang your clothing out, make careful to do so away from direct sunshine. Light (especially sunlight) is extremely hazardous to colors.
5. How do I iron my screen-printed T-shirt?
Simple answer! Inside out!
Only iron your print if absolutely necessary. If you absolutely must, iron inside-out on the lowest possible setting, or lay a tea towel over the picture to prevent smearing.
6. Where and How should I store my screen-printed T-shirt?
Make sure your cloth storing areas are clean, dry, and dark; while garments enjoy fresh air, the sun may fade them – especially designs!
When you find the spot in your wardrobe, reject your impulses to fold. Instead, roll up your t-shirts and gently store them in your closet. best is to hang them nice and simple. This prevents creasing and distortion of the design, and it may even spare you from having to iron them.
Have any more questions? If you have any concerns with your screen-printed t-shirts, we are here to listen.
One of the biggest challenges companies face is getting people to wear company T-shirts. While company t-shirts make a decent marketing scheme, people don't want to be walking and talking billboards with ads on their clothes. 
Company names, slogans, or any type of corporate writing may make a t-shirt design feel like an advertisement.  Its better to drop the sales pitch and up your subtle tactics with decent art.
You will find yourself reading along for the long-lasting company t-shirt ideas in this post. 
Ditch the ad, pick the art!
Naturally, people want to look decent. They understand clothes speak of their personality and thus, they want whatever they wear to add value to their characters, in a way. Despite your agenda behind company t-shirts, you ought to be focused on the art. Let the art do the advertisement for you instead of logos and slogans.
Wise choice of fabric
The feel of fabric affects how people perceive their clothes significantly. Undoubtedly, longevity, washability, and comfort of any garment material depend on the quality. Even if you are trying to low down your budget on company t-shirts, try to choose the fabric that goes well with the design, printing methods applied, and is suitable for repeated use. You may not want to spend money on something that will end up in the corner of the wardrobe and never sees the light of the day again!
Design that speaks volume
The idea is to create a design related to targetted people's sentiments. Creating something that people believe in and have some regard for would give them incentives to wear the T-shirts. Whether you are a manufacturer, sales company, consulting agency, or small store, you can always find art representing your company and still speak volumes. Choosing the best designer is a challenging part, unequivocally.
Trendy and fashionable product
Only because, we started with T-shirt ideas as a title, you don't have to limit your option to just a T-shirt. Hoodies, sweatshirts, tank tops, caps, bags, etc are fantastic alternatives. Depending on targetted populations, age group, setting your products right would not only be smart but also desirable. You can always experiment with badges, stickers, key chains, and such.
Hire a reputable printing company
An agency that works for the best outcome for the client company always knows methods, materials, designs, and other factors involved in the printing. Good research before agency hiring is always prudent. Take the time to look at reviews, prices, customer service, the time they take, and in-house graphic designers all the while keeping the numbers you are printing out in mind. 
First work out the following:
• What is the function of these t-shirts? (Uniforms, promotional items, or casual?)
• Who will put them on? (Executives, intermediate managers, or workers?)
• How frequently will they be worn? (Every day, once a week, on exceptional occasions?)
• Under what circumstances? (Outside in the heat? Alternatively, temperature-controlled environments?)
• What is the cost of each shirt? (Can you afford anything of greater quality?)
Experimenting and Sampling before the final print
Don't be shy when it comes to sampling when you get the first design. You can always communicate with your designer and give them feedback. You can also work with multiple designers side by side until you come with a design that you feel is exactly what you are looking for. Before you give orders for numbers, you out to experiment with colors, sizes, products, and taking time for opinions among your employees or immediate people that are going to be wearing it. It gives you confidence in final decision-making. 
In the end, You can always contact, if you have any questions. Please reach out to our sales staff, who are the finest in the business. You may reach them by using our contact section. And, once you've had your fantastic new company shirts produced, don't forget to upload a photo and share your experience in a review!
While taking in the orders for custom t-shirt prints, the most difficult factor we sometimes have to work with is the file type submitted with low resolution. It is one of the biggest obstacles in the production of successful high-quality print. More work is needed to prepare them for printing and occasionally needs to be completely recreated.
In this article, we will discuss the two primary file types you should be aware of, and among them, we will take time to pick the winner.
Which file format is best for printing?
Vectors and bitmaps are the two major used picture file types (or rasters). By a wide margin, the prevalent document type is a vector file. With not many exemptions, it will consistently convey the best conceivable outcome. Bitmap documents can be helpful and surprisingly needed in certain circumstances, like photographic pictures.  But, for their usability, they should be of high resolution and little to not compressed at all. This is to achieve the best outcomes after the print. The fundamental element to work with bitmaps is that it's the quality of the file rather than the file format.
What are the Vector Files and Bitmap Files?
A mathematical vector is defined rather than a bitmap graph consisting of a pixel grid. The lines and the form of the graphic components are defined by each point and the way they relate to each other. The colors, gradients, typography, and effects are other data components. The main function of vector files is that they are infinitely scalable, which makes them so important for printing. In other words, without compromising image quality, you may enlarge the file as much as you wish.
Vector Vs Bitmap
A further good aspect of vector graphics is that they are far less than bitmap graphics in file sizes.
You have to save the data for the pixels you see in the bitmap file, whether it is black, white, or different gray colors describing its boundaries. Instead, the vector data file just has to hold the data for the neighboring points and fill color for each of those points. As the bitmap picture increases in size, the graphic edges become increasingly fuzzy or pixelated. In addition, the file size itself increases since the amount of pixel data that it has to hold increases exponentially with the image size.
We could only make a long boring mathematical lullaby be this short to make you stop yawning halfway. Hang on there, all the important small titty-bitty stuff is coming right away. Don't fall asleep on this article yet though I know this isn't the most exciting stuff you are reading today.
We will head towards what file formats to submit for custom t-shirt printing only after there is some light needed to be shed on resolution and compression. Because they are both important components of the quality image.
What does resolution mean?
In essence, an image resolution shows the level of detail that it can contain, which is highly essential for printing. The more details the greater the resolution. In particular, the number of pixels measured in pixels in inch (PPI) or dots per inch is given to graphical files (dpi). And better, the more pixels. The online pictures usually measure 72 dpi, which represents the resolution of most computers on the screen, but is much less than the printing solution.
What is Compression?
Compressed images are the process by which an image file is encoded or converted to take up less space than the initial file.  Compression means that we acquire lower file sizes to facilitate storage, sending, sharing, and posting online.
Two major compression kinds exist: lossy and lossless. The quality of the images will be reduced to different degrees, you may have predicted. Lossless leaves the quality maintained while the file size is still reduced. You usually want to store your compressed picture files, such as TIFF or PNG, with little to no loss. While JPG and JPEG formats too can do the same, high levels of compression of the image can make it go useless.
Image file Formats
Here, you can see JPG, GIF, PNG, TIFF, RAW, PSD are basic bitmap or raster images file formats whereas PDF, EPS, AI, and SVG are vector images file types.
The three most typical vector files for printing are as follows:
PDF (.pdf) One of the most common forms of files, and for good reason, which stands for Portable Document Format. It is developed to be standardized so that almost any operating system may be accessed or seen. PDFs can also contain "rich media " such as GIFs, 3-dimensional objects, and video clips but bad news, technology isn't there yet! We can't print GIFs and Clips on our clothes. Just Yet! Who knows? Someday maybe? 
EPS (.eps) which means Encapsulated PostScript. It is an automatically confident format, therefore it is ready for action. It is a safe format. Several programs, including Adobe Illustrator, Photoshop, and InDesign, can save EPS files, even CorelDRAW, not MS OFFICE, but that's all right! Anyway, we don't need it!
AI (.ai) is the native file type of Adobe Illustrator. We adore this since this is the main vector graphic program. A free application named Inkscape appears good if you are in the market of a competent vector manufacturer, but do not have the cash for Adobe Illustrator.
Here are the three of the top bitmap/raster file types for printing:
JPEG (.jpg) is to encode pictures, short for Joint Photographic Experts Group. It is at the present default picture format and is also the most prevalent. It is great for rich gradients and colors. JPEG uses compression, therefore every time you save it, one downside is a loss of data. More about compression. It is preferable to save it as a PSD or TIFF to minimize loss if you deal with a huge photoshop file. 
 TIFF (.tiff), which stands for a targeted images file format, has been created as the format of an interchange between the scanner and the printer. Over the years, photographers and graphic designers have made it quite popular because of its superb compression. Image files are generally bigger than JPEGs, but the compromise is worth keeping. TIFF files allow vector paths and layers (outlines, clipping masks, fonts, etc).
PSD is just a document from Photoshop. It is the native format of Adobe for its standard application of industry graphics. For decades now Photoshop has been above the rest head and shoulders. When you're looking for something similar free, Photopea performs most of what Photoshop can do. It is a wonderful online application accessible.
Not all these file formats are necessary for t-shirt printing. Vector always has superiority against raster images. Though we have already covered the part where we can work with bitmap or raster images and conditions for that. 
We are not here today to go through and about all the file types. So we are going to dive straight into the matter of priority. 
What image file format for the t-shirt print? Yes, yes, we are getting there. In fact, now! 
Before getting right into that, let's take a moment to talk about the ideal file size or resolution that is. We typically ask for at least 300 dpi full-size picture files uploaded. The full-size portion is important; we often obtain better quality files, but the actual size of the image is a fraction of the size that we print. Thus your file should be at least 300 PPI at the time of 12′′w x 14′′h if your image is for a full back print.
But only because we ask for at least 300 DPI, doesn't mean that a large file size like 500-700 dpi is better. No, that's not it. As stated earlier, the actual size of the image is a fraction of the size it is printed. Just don't overdo it is all we say or underdo it by no means.
The maximum T-shirt size area is 12×16″ however we advise you to use any template you may discover in advance to make yourself a better idea. If you want the highest printing quality, your print file must also be at least 300 DPI. However, it also depends on the size of the shirt.
Finally, coming to answer the question, your t-shirt design for the best should be submitted in vector format. This is most likely an AI, PDF, or EPS file. 
Which among AI, PDF, or EPS?
Every format works, but if you're uncertain, pick a PDF because it's the most adaptable one. You will get a file in one or more of these forms from your designer, depending on the program or software they are using for the design, such as Adobe Illustrator or InDesign, etc. Next time you create your own, you will need one of these.
Furthermore, if your printer has unique colors, you may require particular color codes. Make sure you have the color codes of Pantone or CMYK so that all looks how you prefer.
If you want to rather work with raster images, thanks to their high-quality resolutions, the most approved print formats are PNG and JPEG. Although PNG and JPEG are acceptable formats, we suggest that you send your embroidery files in EPS format. This one is easier to print and is more considerate to the material or garment.
T-Shirts have a distinct texture and feel when printed, and many printed logos seem somewhat different depending on the materials used. That is something you should always keep in your mind. And this is why before submitting your cloth material for printing, take a minute to thoroughly understand their type.
In between the two raster images, is PNG or JPEG of higher quality?
The quality of PNG is superior. Although JPEG is a decent format on its own, it utilizes lossy compression, which means that if you change it, you will lose some crucial information. PNGs, on the other hand, are often heavier than JPEGs, so consider the size of your photos before submitting them for printing.
How many pixels does a T-shirt design require?
The recommended resolution is 200 DPI with a maximum of 4000 × 4000 pixels since it does not exceed 10MB and is quicker to load.
That's it! That's it for today! 
Whew, we tried to make it short and less boring, I promise. But if you think there is more information missing and you want help with designs and custom t-shirt prints, please reach out. 
Happy Designing Folks!